El Mouradi Gammarth + Carthago Latin Fest 2018 - 3 nights
EL MOURADI GAMMARTH 5* 3 NIGHTS + FULL BOARD + FULL FESTIVAL PASS to all workshops and parties
Our beloved clients,
from 17th July till 22rd July 2018 we're welcoming you to Gammarth, Tunisia, to ...
Carthago Latin Fest 2018!
*3 NIGHTS PROGRAM below!
Here we go - Carthago is back with its very good memories but a new spirit. From July 17th to 23rd, the 5* Hotel El Mouradi Gammarth will offer us an unforgettable week of dance holidays with a breath line up, a great venue, the best DJ's and the craziest participants from all over the world.
This year we're having:
• 2 ballrooms (Salsa & Sensual room)
• more than 60 artists
• more than 70 workshops:
Mambo/Pachanga/ChaCha/Timba/Reggaeton/Kizomba/
Tarraxhina/OrientalKiz/BachataSensual&Dominican/
Afro House/Semba/Latin Hustle...
• pool & Beach Parties
• sightseeing Tours: Carthago/Sidi Bou Said/
Dougga/The Medina/Zaghouan...
• theme Parties
2018 ARTISTS:
| | | | |
| --- | --- | --- | --- |
| Super Mario - Salsa | Tamba & Emanuela - Salsa | Cyrina Msoul - Tarraxinha | Binza - Bachata |
| Carla Voconi - Salsa | Julio Rojas - Salsa + Bachata | Akram & Sevda - Afro + Semba | Artempo - Salsa |
| Talal & Edyta - Salsa | Sean Babtunde - Salsa | Grazziano & Illaria - Latin Husstle | Wafa Lara - Reggaeton |
| Barbara Jimenez - Salsa Cubaine | Herminio & Carole - Casino | Iyed Khammessi - Bachata | Saad - Kizomba+Afrohouse |
| Yoandi Villaurrutia - Salsa Cubaine | Ivan & Genny - Bachata | Pedro - Salsa | Hsen & Tefida - Kizomba |
| Sophie Fox - Kizomba | Oussema & Lisa - Kizomba | Fares & Neila - Salsa | Emna - Oriental Kiz |

Salsa DJ's: DJ Sabha + DJ Sergio + DJ Shems + DJ Bouch + DJ Abdel
Bachata + Kizomba DJ's: DJ Houssem + DJ Obi + DJ Wol + DJ AliBi + Guest DJ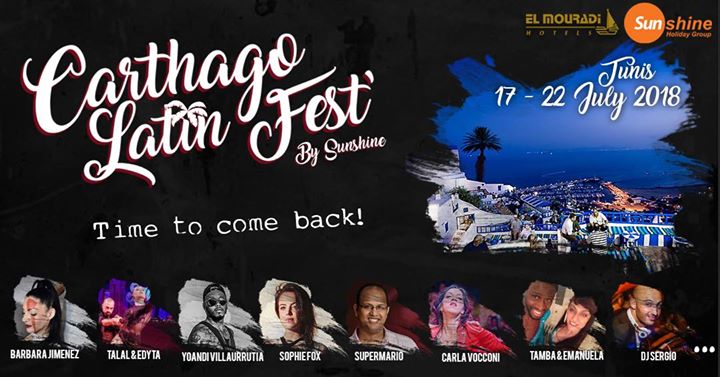 Need more details? Contact us!
☎ +386 1 42 54 349/360
✉ ljubljana@oasistours.si
Published: Ljubljana, March 2018
Pošlji povpraševanje